<![if !supportEmptyParas]> <![endif]>
<![if !supportEmptyParas]> <![endif]>
<![if !supportEmptyParas]> <![endif]>
Introduction
<![if !supportEmptyParas]> <![endif]>
<![if !supportEmptyParas]> <![endif]>
<![if !supportEmptyParas]> <![endif]>
<![if !supportEmptyParas]> <![endif]>
<![if !vml]>
<![endif]>We are the Ocelots an online group of miniature lovers that has been in existence since Wanda Bell, of Dollhouse Central fame, founded the list in early 1998.  Our name stands for "Online Community of Enthusiasts that Love Objects Tiny and Small".
You might think the name Ocelots a bit odd for a miniature group, but we have a good reason.  Early in our existence we were chatting about the spell checkers on our computers and some of the strange suggestions they made for replacement of some words. One member's spell checker kept replacing "onelist" (part of our list's address) with the word "ocelot," and so, the name was born.
Through the collective sharing of our worldwide membership, we all have been helped, at one time or another, by a member more knowledgeable in some particular area than ourselves. This sharing of ideas and information prompted us to put our heads together in an attempt to prepare a guide with ideas to help the new miniaturist and dollhouse builder get a good start in the craft.
<![if !vml]>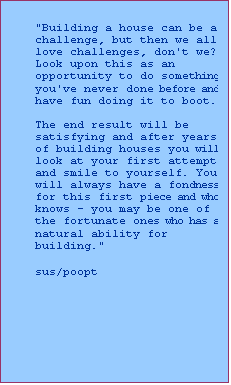 <![endif]>Our primary goals are to answer some of the "how, what and why" questions you have concerning your first miniature house, as well as share information and techniques that at first might not be obvious to the new builder.  In addition, we hope to introduce you to some techniques and information that will assist you in choosing, constructing and decorating your first dollhouse.
If we help you have a more pleasant experience in selecting, building and finishing your first house, then we have accomplished what we set out to do.
Many of the photographs throughout this guide are our members' work. Hopefully, you will enjoy seeing some of the things that can be done and will be inspired to start creating on your own.
We tried to make this guide as comprehensive as possible, without being overly technical. When possible, we suggest substitute products, as we realize not all brand names are available in all countries.
We hope you find this guide to be an enjoyable and informative resource that will help make your entry into miniatures, as well as your first house building experience, a pleasant and rewarding adventure. Thank you for joining us!
The Ocelots
<![if !supportEmptyParas]> <![endif]>
<![if !vml]>

<![endif]>
<![if !supportEmptyParas]> <![endif]>
<![if !supportEmptyParas]> <![endif]>
<![if !supportEmptyParas]> <![endif]>
<![if !supportEmptyParas]> <![endif]>
<![if !supportEmptyParas]> <![endif]>
Last revised:  April 2001
<![if !supportEmptyParas]> <![endif]>